Excellence Pump Industry hearquarter welcomes the delegation from the global mining leader BHP
At 9AM on 11
th
May 2017, the delegation (total 5 people) from the global mining leader BHP visit Excellence Pump hearquarter. The delegaton and Excellence Pump leaders communicate deeply about the slurry pump techniques, then the delegation inspect our slurry pump manufacturing shop and are very impressed with our abundent production capablity and strict quality management system. The delegation expressed their admiration of our first-class R&D department again and again, especially for the achievements we get. Both parties declare that this visit enhance the understanding to each other, and will maintain sound business communication, and also cooperate deeply in the slurry pump upgrade in the on-going projects and pump purchasing in new projects.
In the techinical communication meeting, the delegation listen carefully about our developemnt history, projects participated in home and abroad and relative qualification certificates, and discuss deeply about our main products and traits. In the mean time, they also declare that their visit purpose which is to understand our product traits, produts service condition, quality control system and company history.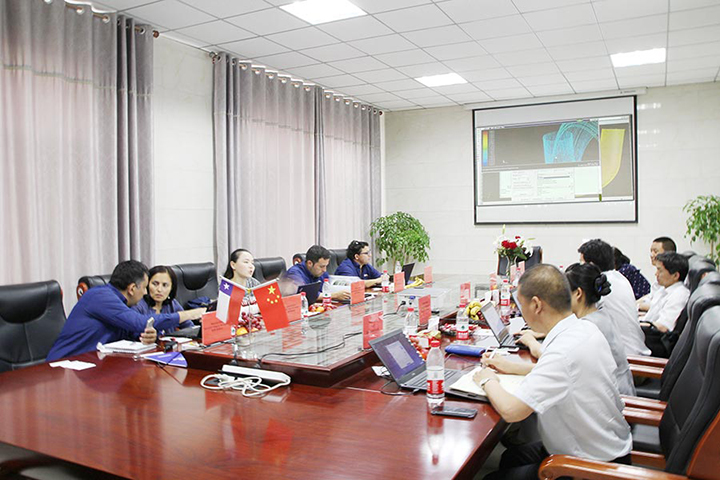 Mr Ma Junfei, the Chief Engineer, introduces the acievements that Excellence Pump R&D center get in the past and their application in mining euqiment field.
Afterwards, the BHP delagation (Ernesto Lopez--Equipment Manager; Marcelo Rios--Purcahing Manager; Maximiliano Platoni--Matintance Manager; Selina Zhang and Jimena Toledo--Purchasing Manager for Asia ) visit our manufacturing shop in the accomany of Excellence Pump (Zhang Gengming--CEO; Wang Rui--Operation Manager; Lv Yuanfu--Chief Designer; Ma Junfei-- the Chief Engineer; Li Dongzai--Sales Director).
Once enter inside the manufacturing shop, a vey busy but effective and tidy scene is showen in front of the delagation: a spacious and bright morden manufacturing shop, advanced international level processing equipments in order; skilled workers with proficient techniques as if sculpturing exquisite arts.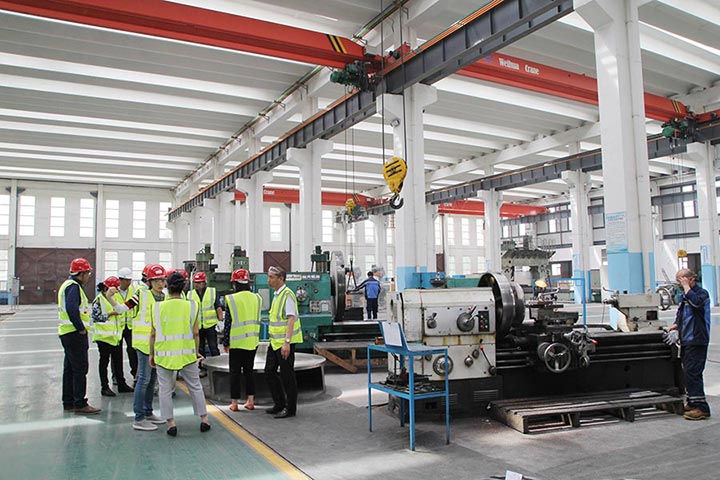 The BHP delagation visit Excellence Pump manufacturing shop.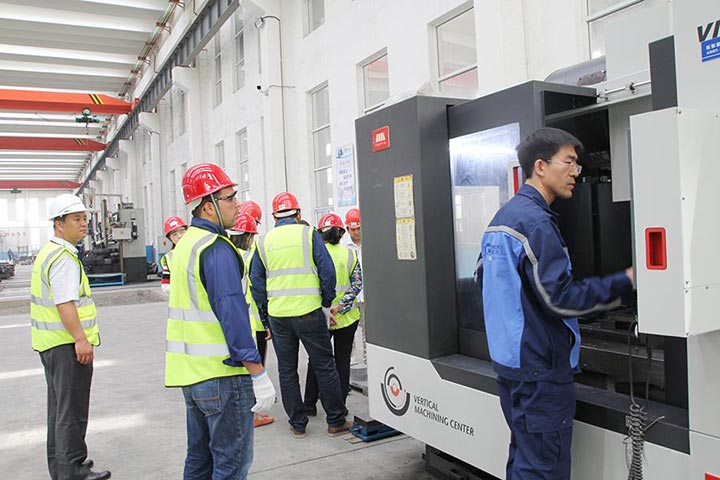 The BHP delagation visit the numerical control machinary center.
Before the pump can show in front of the clients with beautiful packaging, it needs many complicated and precise peocedure and passes strict quality inspection. The delagation mainly focus on the pump quality details and quality control process. In the accompany of Excellence Pump leaders, the delagation inspect the machining workshop, assembly workshop, polishing workshop and the warehouse, the whole procedure from performance testing until getting the test report, and the whole producing procedure: parts---assemblly----finished products, and can feel the brand history and charm of Excellence Pump closely.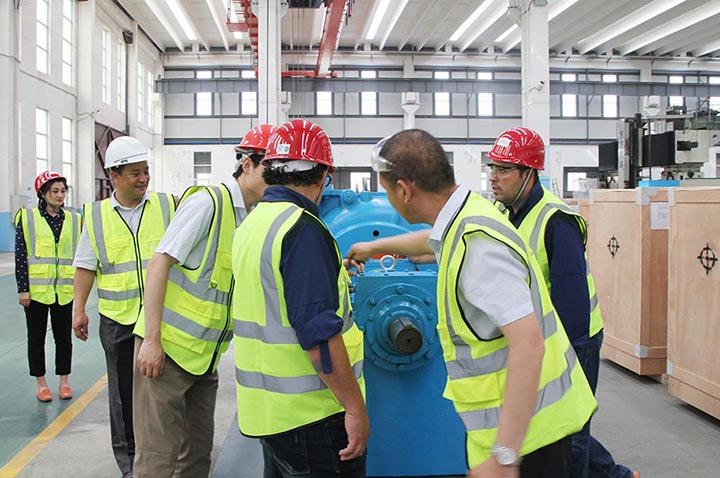 The BHP delagation listen carefully about the introduction of the pump used in exhibition.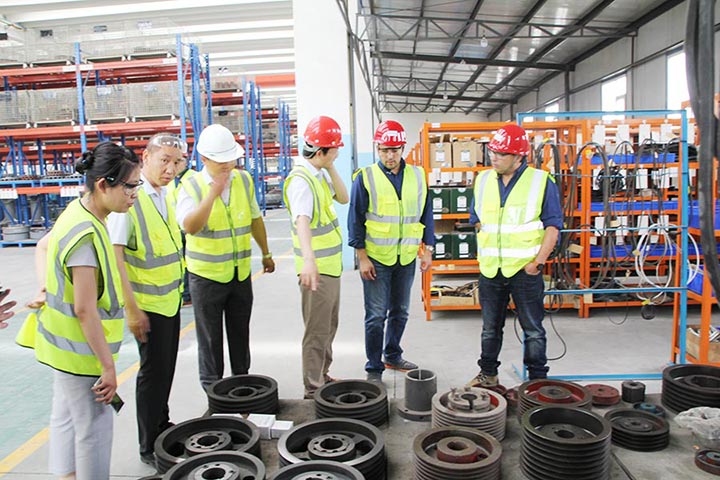 The BHP delagation visit the spare part area in warehouse. Excellence Pump pay much attention to the part quality and all parts are from first class brands.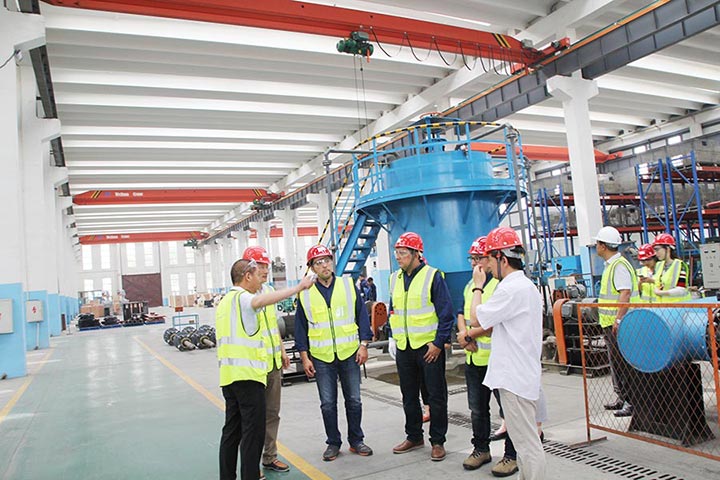 Mr.Zhang Gengming, the Excellence Pump CEO, introduces the slurry pump testing procedure to the BHP delagation.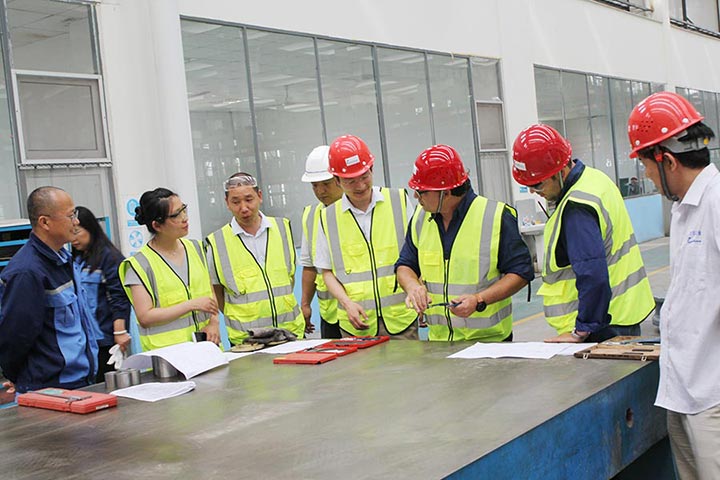 The BHP delagation check the quality control detailed process and its preciseness.
Based on its abundant strength in innovation, advanced manufacturing equipment and complete testing methods, Excellence Pump has 4200 slurry pumps production capability per year with high quliaty. In the manufacturing workshop, after seeing the whole producing process, including the first class R&D equipment, the strict quality control system (note: Excellence Pump has the ISO9001, European CE and Russian EAC certificates ), the BHP delagation can see the abundent production capability and advanced techniques of Excellence Pump directly. (Note: Excellence Pump is the first slurry pump manufacturer which has the slurry pump performance test center, and also the only one which has the independent R&D center in China). During their visit, the BHP delagation are satisfied with the manufacturing workshop, quality control system, after-sale service, warehouse, R&D and so on, and give high praise also. Some of them take photos to catch the splendid moments as a precious memory.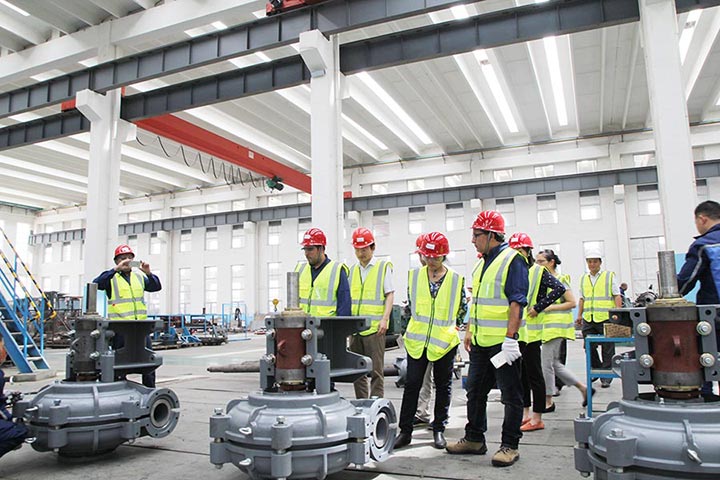 The BHP delagation observe each link in the slurry pump production chain.
The BHP delagation need to leave unwillingly after two hours visit. They are all filled with astonishment: Excellence Pump, a innovative slurry pump manufacturing base, is rising fast and moving forward in its internationalization, and the cooperation space between two parties is unlimted in the future.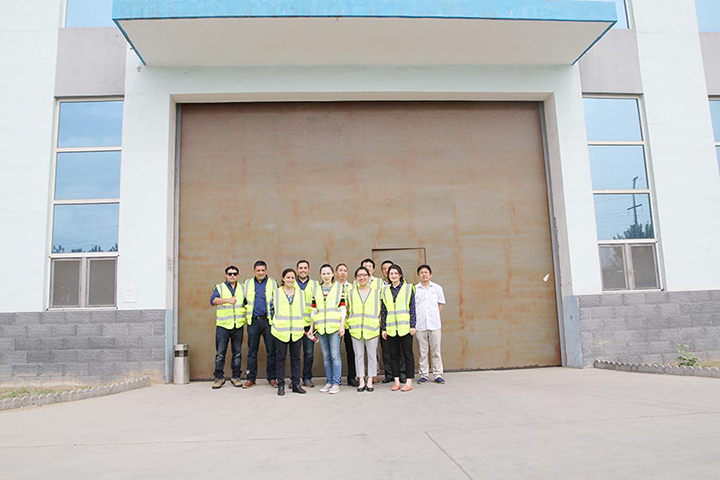 BHP delagation take photos together with Excellence Pump leaders in front of the manufacturing workshop.
BHP is the biggest resouces company in the world which extracts and processes minerals, oil and gas. BHP always value Chinese market a lot and already have hundreds years of trade history with China. Excellence Pump is also devoted to its globalization stragety and become a world-known mining euqipement brand. Excellence Pump CEO Mr Zhang Gengming believes that dometic market can make us big, while international market can make us strong. With the increasingly pace of globlization, Excellence Pump will always follow the value of "Honesty, technical innovation, clients come first", and insist satisfing our clients with high quliaty products, reliable quality, good service and reasonable price.
Since Excellence Pump get the import&export licence in 2005, till 2017 it has 43 overseas agents and its slurry pumps have been exported to more than 80 countries, and its advanced technolgy is highly trusted by global clients. BHP and Excellence Pump are seeking for cooperation in mining euqipement purchasing field, which will have great influence in the development of both parties. In the next step, both parties will enhance business communicatons and work together in order to get larger economic profits and wider development prospects.
【BHP Billiton Ltd】
BHP is the biggest resouces company in the world which extracts and processes minerals, oil and gas. It has businesses in 20 countries and its main products include iron ore, coal, copper, aluminium, nickel, oil, liquefied natural gas, magnesium, diamond and so on.
In 2003-2004, BHP's net profit is 34.087 billion AUD, and it is listed NO.1 in the first 10 largest companies in Australia. On 26th Aug 2004, BHP pronounce that its market value is 58.3 billion USD and it is listed in the stock exchange in Australia , London and New York.
BHP's mines are located in the pilbara region (Newman, yandy and goldworth) of western Australia. The three mines have total proven reserves about 2.9 billion tons, and the output of iron ore is 100 million tons per year. There is also a undeveloped C mining areawhich holds 4.5 billion tons of reserves.
【Excellence Pump Industry Co.,Ltd】
Excellence Pump Industry Co.,Ltd is a professional slurry pump manufacturer in China. With years of accumulation and development, we have formed a complete system of slurry pump design, selection, application and maintenance. We are devoting to offer the best solutions of slurry pump application in the world. Our products have more than 10 serials and hundreds of models and are widely used in mining, metallurgy, coal washery, power plant, sewage water treatment, dredging, and chemical and petroleum industries. We are becoming one of the most important slurry pump suppliers in China, and has a branch in Tianjin. We have offered the professional pump solutions and service over 80 countries in the world, and have 43 overseas agent.
Except with traditional high Chromium, Nickle and Molybdenum alloys, Excellence Pump are always making the continuous optimization of materials for slurry pump wear parts, with Key Laboratory of Ceramics of Tsinghua University, Kunming University of Technology, Beijing University of Chemical Technology and other research institutions to develop wear-resisitant ceramics, polymer composites and other non-metallic wear resistant materials. Our innovation of anti-impact and anti-abrasive materials has reached the international advanced level with many years efforts. In the hydraulic design, we are the first slurry pump manufacturer signing the cooperation agreement on research and development for new generation of product with Institute of Hydraulic Machineray of Tsinghua University. The latest products are of hign efficiency, long life and low consumption in the slurry pump industry.
With the increasingly pace of globlization, Excellence Pump will always follow the value of "Honesty, technical innovation, clients come first", and insist satisfing our clients with high quliaty products, reliable quality, good service and reasonable price.